Smock Alley Round-Tables
Smock Alley Round-Tables is a paid writer development series programmed as part of Sonya Kelly's Artist Residency with Smock Alley, Dublin City Council and the Arts Council. The series is being led and facilitated by established writer Sonya Kelly, and is supported by Lucy Ryan, Director of Programming & Finance at Smock Alley and Kate Ferris, Independent Theatre Producer.
In essence, the series is made up of informal peer to peer conversations that focuses on the craft of writing, engagement with the industry, development of new ideas, honing long term skills, engaging with producers/creative teams and sharing experiences with hard lessons. These sessions are broken down into both individual one on one discussions, and group meetings with all participants.
The central ambition of the Smock Alley Round-Tables is to break down the dependence on outcome focused creativity. They are about the How as opposed to the When; how to build self-belief into writing practice in a way that will help writers stay in the industry, and how, with ambition for skill over all else, we can raise the tide and lift all boats. The five participants are…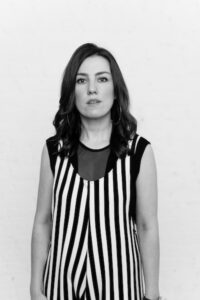 Clare Monnelly
Clare Monnelly is a writer and actor. Her first play Charlie's a Clepto was nominated for two Irish Times Theatre Awards (Best New Play, Best Actress) and the Stewart Parker New Playwright Bursary. Her second play minefield premiered at the Dublin Fringe Festival 2019 and was nominated for three Fringe Awards (Best Design, Fishamble New Writing Award, First Fortnight Award). As an actor she has worked with Druid, the Gate, the Abbey and Livin Dred among others and on screen for RTÉ, Sky One and TG4. She is an alumnus of Irish Theatre Institute's Six in the Attic programme and the Lyric Theatre Belfast's New Playwright Programme.

Erica Murray
Erica is a playwright currently based in County Limerick. In 2019 she was the writer in residence at The Lyric Theatre where her play All Mod Cons premiered and was awarded the Channel 4 Playwright Bursary. Other recent work includes The Cat's Mother which toured to London, Edinburgh and the Dublin Fringe in 2018 where it won the Fishamble Award for Best New Writing and was nominated for the Stewart Parker Award.

Aisling O'Mara
Aisling graduated from the LIR Academy with First Class Honours in 2015. Theatre Credits include: SHIT (THISISPOPBABY , Were We Will Festival, Projects Arts Centre) The First Pegeen (Bewley's Cafe Theatre)In Our Veins (The Abbey Theatre)We Can't Have Monkeys In The House (The Peacock Theatre), The Grimm Tale Of Cinderella (Smock Alley), Nothing But A Toerag By Aisling O'Mara (Smock Alley, Bewley's Cafe Theatre ), Fierce Notions (Dublin Fringe Festival Judges Choice Award Winner), Monster? (Theatre Upstairs), Wall (Abbey Theatre), Murder of Crows
(Theatre Upstairs, National Tour), Hostel 16 (DFF 2016), Beyond Barricades (ANU),
Hornet's Nest (ANU), Into The Sun (ANU), Rebel Rebel (ANU: Ireland/UK/New York), Jack Duggan's War (Collins Barracks), Contractions (Bewley's Cafe Theatre). Aisling is the winner of the Jim Mc Naughton Tile Style Bursary Award 2018 in association with Business to Arts. Next Generation Arts Council recipient 2020.

Shane O'Reilly
Shane is an actor & writer. Shane recently wrote and directed windowpane, a monologue written for film, as part of The Abbey Theatre's Dear Ireland production. In response to a commission from Culture Night 2020 Shane wrote and directed the short film PAL. He has recently completed his new play for young audiences swansong, a commission from Barnstorm Theatre Company, which will premiere in 2021. Other writing work includes; The Water Boys for Equinox Theatre; Näher…closer, nearer, sooner co-created with The Liz Roche Company; FOLLOW, FARM and CARE co-created with WillFredd Theatre as their associate artist; The Genealogy Project (presented as part of an in-development programme at The Abbey Theatre in 2017). He is currently in development with Invisible Thread Films on a new experimental documentary film. Shane has performed with the Abbey Theatre, the Gate Theatre, Rough Magic, Druid, Landmark, Barnstorm and Prime Cut along with other Irish and international companies.

Keith James Walker
Keith James Walker is a writer from Dromin, County Louth. He has previously written 'How to Build Your First Robot' for the Dublin Fringe Festival, 'Walkinstown' staged in Smock Alley Theatre and 'Flake' for the Abbey Theatre as part of the Dear Ireland project.