CONCERT
14 Dec 2013
She's a Beauty
Video Launch
Irish band 'She's a Beauty' are set to make their latest release. They will be showcasing their brand new cinematic concert of their E.P – 'Between the Closest Space & Furthest Skies'.
---
THEATRE
2-11 Dec 2013
Fishes
Exit Excitedly Theatre Company
Set in a dingy flat in present-day Dublin, a smell of mouldy bread and crusty clothes wafts its way through the nose of poor Larry's inner thoughts. Desperately passive, Larry unintentionally shines a scorching and painful spotlight on the modern-day 'typical Irish Man', this sorely resonates with our famous and historic Irish male psyche.
---
THEATRE
25-30 Nov 2013
The Circus Of Perseverance
Gonzo Theatre Company
Out of the ashes of a burnt and charred city, rise the heroic adventures of characters on the fringes of an absurd society. With the ringmaster as narrator and our capital as the backdrop, seven interwoven stories are blasted into life in a mesmerizing disco of scenes.
---
THEATRE
25-30 Nov 2013
The Mass Rock
Bealtaine Theatre
The Mass Rock is a haunting play exploring what happens when events unfold to resurrect memories long hidden that celibacy now can no longer contain. This dynamic piece bravely delves into the recesses of religious life to explore the power of belief in a lie.
---
THEATRE
22+23 Nov 2013
Guaranteed
Fishamble: The New Play Company
A dramatisation based on documentary sources about the bank guarantee.
On the night of September 29, 2008, the Taoiseach and Minister for Finance decided to guarantee Ireland's banks – to the tune of €440 billion.
Guaranteed! tells the story of that night, and how they got there.
---
FLAMENCO
18-22 Nov 2013
Dublin Flamenco Festival 2013
Dublin Flamenco Festival
For its third edition, Dublin Flamenco Festival continues its dual focus on both traditional and avant-garde flamenco, but goes even further to explore how the flamenco influence goes beyond song, dance and music and can be felt among painters, poets and even sherry producers.
---
THEATRE
21+22 Nov 2013
Deeper
Patrick Sutton
DEEPER is a unique 45 minute collaboration between pianist, Izumi Kimura, seismologist Chris Bean and writer/director Patrick Sutton.
---
LITERARY
14-17 Nov 2013
Dublin Book Festival 2013
Dublin Book Festival
For four days authors, readers – both young and old, publishers and aspiring writers gathered together and shared their love of words and books.
---
LITERARY
11 Nov 2013
Scott Turow
Writers @ Smock Alley
Bestselling author of 'Presumed Innocent' Scott Turow discussing his new thriller 'Identical', a gripping masterpiece of dark family rivalries, shadowy politics and hidden secrets. Chaired by award winning Irish crime writer Declan Burke.
---
THEATRE
6-7 Nov 2013
Beatle Mal
Mermaid Tavern & Irish Theatre
Beatle Mal is a touching and funny 2 act play that puts Mal Evans, loyal roadie to the Beatles and also
their best friend, centre spotlight for a change and offers a completely different perspective on the Fab 4.
---
CONCERT
5 Nov 2013
Chatham Saxaphone Quartet
Music Network
Performing an expansive repertoire that runs the gamut from Bach to Steve Reich, including contemporary Irish composers and the use of multi-media, this unique ensemble pushes the boundaries of what we know the saxophone quartet to be.
---
CHILDREN'S THEATRE
28 Oct-2 Nov 2013
Daylight Robbery
Ofegus Theatre Company
The magical Kingdom of Enchantasia is in trouble. The sun has been stolen and taken down into the centre of the earth, to the mysterious Kingdom of Earthcrux! But by whom? And Why? It falls to Wendy Witch, aided by other brave magical folk, to investigate this heinous crime and to try – literally – to save the day! Daylight Robbery is full of magical fun and adventure that everyone – from 4 to 84 – will enjoy… and want to come back for more!
---
THEATRE
24-26 Oct 2013
Dorset Street Toys
Fregoli
A child prophet is taken from a basket sent drifting down the Liffey. A young girl clutching a dolly is taken from her home. A man in a superhero cloak hides from the streets he once thought to save. A woman steps out into onto the street to sell the only thing she thinks she can. Fregoli are delighted to present the debut of Dorset Street Toys, a provocative, harsh but ultimately moving exploration of love, lost childhood and the Dublin streets. Performed with energy, sincerity and heart, this piece inspires to both move and entertain.
---
THEATRE
7-12 Oct 2013
Love Song
Catch the Pigeon
Love Song is an offbeat romantic comedy about Beane – a reclusive and odd young man. His well meaning sister Joan is unsure how to handle him and this puts pressure on her marriage to Harry. Then Beane meets Molly, a young woman who attempts to burgle his apartment one night. They form a bond that changes all the characters perspectives.
---
DUBLIN THEATRE FESTIVAL
9-13 Oct 2013
A True Tall Tale
Gruppe 38 and Carte Blanche
Very freely adapted from Selma Lagerlöfs The Legend of the Christmas Rose, A True Tall Tale is a beautifully told bedtime story from one of Denmark's most highly regarded children's theatre companies. Having captivated children and adults alike with their presentation of A Sonatina in the 2011 festival, Teatret Gruppe 38 and Carte Blanche present this special new tale of adventure and exploration.
---
DUBLIN THEATRE FESTIVAL
2-13 Oct 2013
Desire Under The Elms
The Corn Exchange
Creators of last year's festival hit Dubliners, the acclaimed Corn Exchange company, under the direction of Annie Ryan, strip a modern classic down to its bare bones. Desire Under the Elms promises a theatrical experience of raw humour, shocking intimacy and incredible power.
---
DUBLIN THEATRE FESTIVAL
2-6 Oct 2013
I've to Mind Her
DYT
Exploring the world of young carers, I've To Mind Her is a new play examining the responsibilities we have to our family and to ourselves. It's a story about parents and their children, their hearts, their genetic hardware and what would happen if one or both stopped caring.
---
VISUAL ARTS
20 Sep-6 Oct 2013
Paul D'Arcy
Fourth Wall Exhibition
Jhumpa Lahiri who will be discussing her new novel 'The Lowland', a beautiful and devastating family story set in Calcutta, which has been shortlisted for the Man Booker Prize 2013. A book signing will take place after the event.
---
THEATRE
1-5 Oct 2013
The Swell Party
Western Australian Academy of Performing Arts
The Swell Party is the tumultuous story of the most prolific artists of the Jazz Age, including James Joyce, F. Scott Fitzgerald, Ernest Hemingway and Pablo Picasso. It focuses on the damage they inflicted on their loved ones, and unveils the truth behind the glamour of the era.
---
LITERARY
17-21 Sep 2013
Jhumpa Lahiri
Writers @ Smock Alley
Jhumpa Lahiri who will be discussing her new novel 'The Lowland', a beautiful and devastating family story set in Calcutta, which has been shortlisted for the Man Booker Prize 2013. A book signing will take place after the event.
[/one_half_last]
---
THEATRE
23-28 Sep 2013
MacBeth
Arclight
Tempted by the prophecies of three mysterious witches, Macbeth's ambition to be King of Scotland leads him into a nightmarish world of evil, deceit, and murder. Monstrous actions run rampant as he and Lady Macbeth lose themselves to unstoppable drives of savagery and political atrocity.
---
DUBLIN FRINGE FESTIVAL
17-21 Sep 2013
A 20th Century Concert : Abridged
Taylor Mac
Internationally acclaimed singer/theatremaker/superstar and Dublin Fringe Festival favourite Taylor Mac brings Radical Fairy Sacrament Realness to this concert of popular music classics. This abridged version of Taylor's upcoming 24-hour concert will include at least one song from each decade of the 20th Century to act as a springboard for frivolity, elation and contemplation.
---
DUBLIN FRINGE FESTIVAL
17-21 Sep 2013
Speedtrap – confession of a Speed Junkie
Storm in a Teacup
On your marks, get set, go … Yvonne is racing back to the time when she was a contender for an Olympic medal. On the way she is looking at what she has been running away from and speeding towards all her life. Fasten your seatbelts and pack your airbags for a performance that involves space travel, a trapeze artist, dolphins and a shopping trolley. SPEEDTRAP… because you can't keep running for ever.
---
DUBLIN FRINGE FESTIVAL
17-21 Sep 2013
Moving City
Maeve Higgins
Sugar-babies, I hope you're ready! This show will amuse you so hard you won't know which way is up! It's a very funny, slightly sad, mainly true love-letter to home. The thing is, I broke up with Dublin last year. I'm pretty sure that's what happened, but Dublin insists he dumped me. Maybe it was mutual. All I know is, I've moved on – to London. London is flashy and confident and knows a lot of tricks, so I should be happy … and I am, sort of. I'm a changed woman! I just can't stop thinking about Dublin.
---
DUBLIN FRINGE FESTIVAL
16-21 Sep 2013
RUTH 66
Fourth Leaf Theatre Company
RUTH 66 is a show about a clown who does just that. She leaves the moss drenched crossroads where she has been for a long time to travel across America in search of Sex, Drugs and Rock and Roll! Amidst her antics at The Palomino Motel; Tequila in the back of Joseph's Bar and an encounter with a moose, will she reach a new understanding of who she is and what the hell she's doing here?
---
DUBLIN FRINGE FESTIVAL
15-21 Sep 2013
The Secret Art of Murder
Five Gallants
When playwright Christopher Marlowe was stabbed in 1593, his murderers were acquitted by the Queen. Justice must be done. Told through blank verse, this show delves into a dark, secret world where those in power cover up the truth for their own profit.
---
DUBLIN FRINGE FESTIVAL
14-21 Sep 2013
Kitschcock
Xnthony
Pop concert and interview session. Brash extroversion and heartfelt intimacy. This is the introduction to the pop-protagonist XNTHONY. Expect merchandise, branding and frank insights into the life of someone who wants you to know their name – but more importantly, how to pronounce it!
---
DUBLIN FRINGE FESTIVAL
15 Sep 2013
Album Launch – We Belong Dead
The Late David Turpin
After his sold-out Fringe debut in 2012, The Late David Turpin rises again for a one-off theatrical concert to launch his new album, We Belong Dead. A contemporary gothic micro-odyssey with a stellar supporting cast, the album weaves a mysterious, erotic narrative of the Return of the Animal, locating the sweet spot between Laurie Anderson and Hans Christian Andersen.
---
DUBLIN FRINGE FESTIVAL
14+21 Sep 2013
Songs in The Key of D
Eoin Kilkenny
The ultimate feel-good feast in this year's programme and a one-off. This choral exploration aims to explore this tradition of song-making by paying homage to these musical experiences while rooting them in the present day tone of the city. The performances will recognise musicians from Handel to Hansard, Lynott to Drew as well as exploring the physical city itself.
---
DUBLIN FRINGE FESTIVAL
13-15 Sep 2013
Fit/Misfit
Jazmin Chiodi & Alexandre Iseli
Four dancers meet between Mexico and Ireland for a showdown starring our individual sensibilities and the need to belong. A dynamic and physical dance supported by a humorous cinematic Spaghetti-Western-style music score.
---
DUBLIN FRINGE FESTIVAL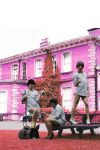 11-15 Sep 2013
How to be a Lad(y)
Ponybois
The award winning ponydance give you their first splinter group; the ponybois, with a brand new all dancing gender-bending show. This all-male cast (well, mostly all male) including a Northern Irish Hip Hop Champion and the World Line-dancing Champion ….yes, line dancing… will dance you through a thorough tutelage.
---
DUBLIN FRINGE FESTIVAL
8-13 Sep 2013
Pondling
Gúna Nua & Genevieve Hulme Beaman
A searing new theatrical voice bursts forth in an utterly bewitching performance by Genevieve Hulme-Beaman. A story of LOVE, beauty, chicken-chasing, daisy chains, cat-killing, French singing, dress-wearing, en-suite bathrooms and the day at the pond.
---
DUBLIN FRINGE FESTIVAL
8+14 Sep 2013
Brat Kids Carnival
Brat Kids Club
Welcome to the biggest brat-attack from a star studded line-up Australia's finest circus artists and mischief makers. Witness hula hoops at top speed, acrobatics at alarming heights, larrikins swinging from the tent poles with some seriously cheeky clowning antics; all performed in a manner that will out-BRAT the biggest BRAT child the world has to offer.
---
DUBLIN FRINGE FESTIVAL
7-13 Sep 2013
There's a Plant on-Stage
Foil, Arms & Hog
Foil Arms and Hog are back after a sell-out run at the Dublin Fringe in 2012. We've been called the following: 'Hogs, Dogs and Legs', 'Hog, Farm and Oats' and our personal favourite 'Tinfoil, Skinless and Hutch'. In the words of the Ting Tings: "That's not my name". A fast paced mix of sketch comedy and stand up, with twisted characters, unpredictable scenes and high energy performances.
---
DUBLIN FRINGE FESTIVAL
7-10 Sep 2013
C'est la Bea
Aisling Bea
Highly anticipated debut stand-up show from Irish comedian and winner of So You Think You're Funny? 2012 featuring joke filled tales of life, death, hip-hop, raving and riding. The Independent's 'One To Watch', an Amused Moose semi-finalist, as seen on Jack Dee's Don't Sit In The Front Row (Sky), Dead Boss, Cardinal Burns (E4) and Russell Howard's Good News (BBC3).
---
DUBLIN FRINGE FESTIVAL
7-13 Sep 2013
Whelp
Come As Soon As You Hear
Meet The Boomerang Babies. Hatched into a world that was supposed to be their oyster, they set off into the sunset with designs on domination. But things haven't gone to plan. It seems no amount of degree parchment or unpaid internships can thwart the threat of 'insufficient funds'. So now they're retreating.
---
DUBLIN FRINGE FESTIVAL
7-14 Sep 2013
Confusion Boats
Ger Kelly
Why do some boys not cry? Gerard Kelly wants to find out. He'll revisit old influences, heroes and enemies to uncover what shaped him into the man he is today. From his own father to Daniel Laruso to Tupac Shakur. Join him as he tries to shake off his own unwanted traits of masculinity.
---
DUBLIN FRINGE FESTIVAL
5-14 Sep 2013
The Birthday Man
The Gonzo Theatre Company
Set in three different eras – in 2013, where a couple wait for senile Oisín Brady to die; in 1980s London, and in the 1913 Dublin Lockout as Oisín is born. Using multi-media, an ensemble cast play over twenty characters; this ambitious production links desperate people through themes of identity and history in a highly imaginative theatre experience.
---
THEATRE
3-5 Sep 2013
A Hundred Years Ago
RADE
A Hundred Years Ago explores the dramatic events that evolved through the autumn of 1913 when ordinary workers took a stand with Jim Larkin against the employers of Dublin city and the subsistent wages that held them in slavery.
---
THEATRE
27-31 Aug 2013
3 lies about Brooklyn + Walt Whitman
John M Farrell Double Bill
3 Lies about Brooklyn centres on Farrell's troubled childhood and the discovery that he was one of Ireland's notorious Magdalene Laundry babies shipped to the US under the auspices of one of the Catholic Church's uglier institutions. The second half of the bill is the latest in Farrell's ongoing Walt Whitman: Time Traveler series and focuses on Walt Whitman and Peter Doyle as they pretend one day, to complete the visit to Ireland.
---
THEATRE
26–31 Aug 2013
Tall/Dark
by Ian Cregg
On just one day in Ireland – November 6, 2012 – 537 women and 311 children were accommodated and/or received support from a domestic violence service. Among these there were 22 pregnant women. Ian Cregg's play Tall/Dark is a story of the unspoken, the unmentioned, what goes on behind closed doors.
---
BUTOH FESTIVAL
23+24 Aug 2013
Butoh Workshops
Hygin Delimat, Paul Henry and Natsuko Kono
The workshops are open to all, you don't need any previous dance or theatre experience. Our past workshops participants were between 16-75, and there is no thought to be wasted with being 'good enough, flexible enough, artistic enough…' Butoh is not based on making shapes, but grows out of your experience as a person. Have fun exploring your body from the inside with imagery unique to yourself!
---
BUTOH FESTIVAL
22-24 Aug 2013
Performance
Hygin Delimat, Paul Henry and Natsuko Kono
Butoh Festival Dublin is a DIY festival born out of passion for dance, performance, mindful movement and sharing. The small group of volunteers want to open minds and hearts with performances and workshops, some free, some charged, and always without profit.
ButohDublin was founded with the mission of enriching the Irish theatre and dance scene with more performances and to establish an intimate festival that presents contemporary forms of butoh.
---
MUSIC
29 Jul 2013
MUGA
Izumi Kimura, Shane Latimer and Matthew Jacobson
無我 Muga is the newest interpretation by one of the newest trios in Dublin of the oldest teaching – to observe how endings become beginnings. "Only then will you witness everything unfolding from emptiness" – Lao Tsu. Their music is a delicate balancing act between focussed repetition and gradual/sudden change, exploring the nature of metamorphosis over long improvised passages.
---
SCIENCE FESTIVAL
25-28 Jul 2013
Festival of Curiosity
Various
Dublin's first annual festival of science & culture, will transform Dublin's City Centre into a fun filled curiosity hub from the 25th – 28th of July, with lots of free day-time events for families & children, accompanied by an evening programme of interactive science debates, discussions and shows that will intrigue and challenge the most curious of minds.
---
THEATRE
25+26 Jul 2013
Can I Fit into This?
Rhythm Room
Through the support of the group and the facilitation process the actors have shared their stories and created a landscape for their stories to live, breathe and speak for themselves.
---
STORYTELLING/TV
22-24 Jul 2013
Stories of Dublin
DCTV
The follow up to DCTV's award winning TV series, The Storyteller, this production brings the art of storytelling to a theatre audience. Accompanied by live visuals designed by Le Tissier, each night sees three different storytellers being recorded by a TV crew for DCTV's 'Return of The Storyteller' which will broadcast in 2014.
---
THEATRE
1-6 Jul 2013
The Miracle
Youth Theatre Company
The Youth Theatre Company once more bring you and extraordinary piece of theatre. The population of a town stands looking across its rooftops, as if remembering. The Miracle is starting, and thirteen year old Zelda guides us through the town, allowing us to witness strange events that are transforming lives.
---
THEATRE
25-30 Jun 2013
Town & Country
Gaiety School of Acting Graduation Play
TOWN & COUNTRY are two companion plays set in a darkly fantastical version of contemporary Ireland. In TOWN, two violent criminal gangs clash over territory, power, and possession of one young woman. In COUNTRY, two outsiders bringing bad news to a family of siblings find themselves in a magical trap, from which there is only one way out.
---
CHILDREN'S THEATRE
25-6 Jul 2013
Human Child
Collapsing Horse Theatre
Inspired by changeling myths from Irish mythology and the poetry of WB Yeats, Human Child is a blazing adventure, fantasy story that mixes puppetry, comedy and live music. Come away, O human child!/To the waters and the wild/With a faery, hand in hand/For the world's more full of weeping than you can understand.
---
MUSICAL THEATRE
23 Jun 2013
See If You Like it
Georgia Snow
Georgia Snow successfully creates this one-woman musical revue featuring some of Sondheim's repertoire including Sweeney Todd, Into the Woods, A Little Night Music, Company, Marry Me A Little, Evening Primrose, A Funny Thing Happened on the Way to the Forum, and shows that Sondheim wrote lyrics only for such as Gypsy and Do I Hear A Waltz?
---
MUSIC
16 Jun 2013
KBC Great Music in Irish Houses
Benjamin Britten Day
The 2013 Great Music in Irish Houses Festival proudly pays homage to this great English composer by presenting some of the greatest works in his chamber music catalogue, alongside works by composers who inspired him and contemporaries he influenced, in a day-long series of concerts, talks and post-concert discussions
---
LITERATURE
12 Jun 2013
Writers @ Smock Alley
John Banville
Bestselling Irish novelist John Banville will be discussing his new Benjamin Black crime novel 'Holy Orders' with journalist and broadcaster Olivia O'Leary, as well as the new Quirke television series and the film version of his Booker Prize winner 'The Sea'. A book signing will take place in the Gutter Bookshop after the event.
---
NEW MUSIC & VIDEO
8 Jun 2013
Theatre of Sound
DublinSoundLab
Inter/Action is an international, inter-media collaboration featuring six new music-video-dance works by three Irish and three Romanian composers integrating acoustic music, live electronic music, interactive video and dance.
---
THEATRE
27 May 2013
The Miser
SCFE
In "The Miser", Harpagon is an avaricious man who penny-pinches wherever he can, leading to hilarity and intrigue, and the play is an engaging romp that will have the audience in stitches.
---
DUBLIN WRITER'S FESTIVAL
20-26 May 2013
Various Authors
Dawn O Porter, Denis O Driscoll celebration, Thomas Keneally, Hubert Butler, John Banville, Peter Murphy & Paul Lunch, Tracey Thorn, Aleksandar Hemon, Brown Bread Mixtape, Darren Shan, Deirdre Madden & Rebecca Miller, James Salter, Fifty Shades of Feminism, John Gray, Rebecca Solnit, Frank McGuinness.
---
DUBLIN DANCE FESTIVAL
23-26 May 2013
CoisCéim
Missing
In a poignant new duet, CoisCéim, one of Ireland's leading dance companies, broaches the experiences of the families and communities left behind. Missing is a reminder of the fragility and beauty of moments shared.
---
ALBUM LAUNCH
18 May 2013
The Chapters
Blood Feels Warm
"Their competent mastery over instruments makes them a pleasure to listen to, they are accomplished but never excessive.   The songs are the stars of the show" – Louderthanwar.com
---
MEDITATION
1 May 2013
Mindfulness Ireland
Friendship Workshops
Mindfulness Ireland is a network of people in Ireland who aspire to practice mindful living and mindfulness meditation according to the teachings of Thich Nhat Hanh, affectionately known as 'Thây ', or teacher in Vietnamese
---
DANCE
29 Apr 2013
International Dance Day
Various Choreographers
IDDI Collective present a 2 day festival. FREE Classes/workshops @ DanceHouse SUNDAY 28TH 11-                                     4pm FREE Out of theatre Performance trail MONDAY                                        29TH 12-5pm
---
LITERARY
20 Apr 2013
Writers @ Smock
A.C Grayling
A wonderful opportunity to meet philosopher and humanist Prof AC Grayling who will be discussing his new books 'The Good Book', a book of inside inspiration, wisdom, solace and commentary on the human condition, and 'The God Argument; the case against religion and for humanism.
---
THEATRE
16-20 Apr 2013
Night of The Living Dead
Dry Ice Theatre Company
Dry ice Theatre present a brand new Brutal adaptation of George A Romero's Night of the living Dead, and the book by John Russo. Barricaded in a farmhouse in rural Cavan, seven survivors fight for their lives, as a mysterious phenomenon sweeps over Europe causing the dead to rise and hunt the living.
---
MUSICAL
11-13 Apr 2013
Avenue Q
DIT Dramsoc
Irreverently witty and outright uproarious, Avenue Q is the musical story of Princeton, a bright-eyed college graduate who arrives in New York City looking for love, a job, and his purpose in life. The only neighbourhood he can afford is the multicultural Avenue Q, where Sesame Street-esque puppets rub shoulders with humans.
---
THEATRE
11-13 Apr 2013
Have I No Mouth
Brokentalkers
This powerful new play by one of Ireland's most daring independent theatre companies, explores the changing nature of the relationship between a mother and son in the aftermath of a family tragedy. Feidlim and his mother Ann take a brave, unflinching look at their past and attempt to piece together the truth.
---
DANCE
11-13 Apr 2013
Walker + Stream
Maria Nilsson Waller
Set to the much beloved score by Steve Reich this solo fuses several themes of interest. Charming and slightly quirky, this is a highly captivating, original and spell-binding piece invites the audience to travel along, sparking their imagination.
---
MUSIC
6 Apr 2013
Biggles Flys Again
Remember Saturday Album Launch
Biggles Flys Again's debut album 'Remember Saturday' sounds like one of those great pop albums you used to listen to and there are several reasons why. Music genres come and go but what will never change is that the kernel of popular sound is a good old fashioned tune and 'Remember Saturday' has them in spades.
---
DESIGN
3 Apr 2013
Crafthouse
in conversation with Robert Ballagh
Robert Ballagh, most notably recognised for his work on the Irish bank notes and national stamp designs, will impart some of his vast experience and knowledge during a conversation with Crafthouser Tady Walsh.
---
THEATRE
1-6 Apr 2013
The Edge of Our Bodies
PenKnife Productions
'The Edge of Our Bodies' by Adam Rapp is coming of age story that has been described as a female contemporary version of 'The Catcher in the Rye'. The play brings the audience on a poetic journey, pushing boundaries "beyond the edge of what we know"; by stepping outside and examining ourselves.
---
MUSIC
31 Mar 2013
Life after Modelling
aka The Gospel according to Matthew J. Anthony
Art is a regular boy, with dreams the same as any other boy his age. Art is very frustrated and just about to give up on his hurling dreams. He turns to a book he got from the school library for help and the unexpected journey begins…
---
MUSICAL/THEATRE
18-30 Mar 2013
Monster/Clock
Collapsing Horse
Best described as a musical puppet comedy, MONSTER/CLOCK tells the story of Toby, a castigated monster and apprentice watchmaker, whose world is blown apart by a raid on his workshop and is forced to flee the safety of his desk into the vast fantasy world that awaits him.
---
THEATRE/IRISH LANGUAGE
19-23 Mar 2013
Art agus an Leabhar Draíochta
Dagda
Art is a regular boy, with dreams the same as any other boy his age. Art is very frustrated and just about to give up on his hurling dreams. He turns to a book he got from the school library for help and the unexpected journey begins…
---
THEATRE/IRISH LANGUAGE
16 Mar 2013
Focal Point
TEAM theatre
The Irish language is on life-support, and so too is its greatest scholar in this bilingual play that forces you to imagine a world without 'sláinte', or any remotely similar word.
---
MUSIC
15 Mar 2013
Rufus Coates & The Blackened Trees
EP Launch
Armed with beautifully-crafted songs and punctuated by haunting vocal harmonies from Rufus and his partner in rhyme Jess, their sound can only be enriched by the presence of their full band.
---
COMEDY/RAP
13 Mar 2013
The Complete Guide to Everything
Coliseum Eisenhower
Brooklyn-based comedians and writers Tim Daniels and Tom Reynolds present The Complete Guide to Everything based on their popular podcast. While you may not learn anything per se, these two world-weary Americans will provide an insight into the mind of 21st century man that will simultaneously amuse and worry you.
---
FESTIVAL
6-9 Mar 2013
How I learned to stop worrying and love the Gardaí/The Secret Art of Murder
Collaborations 2013
From Ireland to her native New Mexico Lili explores immigration and why it's an issue everyone is so damned worried about. / A one-man show, which investigates the mysterious demise of the playwright Christopher Marlowe.
---
MUSICAL/THEATRE
5-9 Mar 2013
Jenny is a Raver
Collaborations 2013
Jenny's been playing, she's been playing all her life but what happens when the games aren't enough, the music isn't loud enough and the drugs don't work.
---
FESTIVAL
5-9 Mar 2013
The Park/Awkward/Pondling
Collaborations 2013
A tale of friendship, culture, family, anger, heroism and a look at the animalistic jungle of growing up in a Dublin Park.
---
THEATRE
25 Feb-9 Mar 2013
The Sylvia
Collaborations 2013
Artist Barry and his wife Sylvia are out of money. Art collectors Nick and Shelly have a briefcase bulging with cash. But there is something unsettling about these visitors…
---
FESTIVAL
22-24 Feb 2013
Elephant/The Last Tirade/Fishes
Collaborations 2013
Come behind the scenes of a blockbuster and meet Harrison and Sean, two men with ego's bigger than their paychecks.
---
FESTIVAL
22-24 Feb 2013
In Rainbows
PaperDolls
In Rainbows is a physical and musical piece performed at varying heights, incorporating aerial silks and female voice.
---
THEATRE
15-17 Feb 2013
The Crucible
DADA
The Crucible is a 1953 play by the American playwright Arthur Miller. It was initially called "The Chronicles of Sarah Good". It is a dramatization of the Salem witch trials that took place in the Province of Massachusetts Bay during 1692 and 1693
---
THEATRE
14-16 Feb 2013
Tomorrow I Will be Happy
YDATC
When a stranger comes to a crumbling seaside town looking for his friend Darren, he discovers that he was killed in a homophobic hate crime.
---
THEATRE
12-13 Feb 2013
Let me Be
Fregoli
Laura and Molly are two sisters who according to those in the town 'have had it hard'. Two very different personalities their deep bond and ability for imaginative play see them through harsh memories and a dark past.
---
COMEDY
8 Feb 2013
The Craic Pack
Fundraiser
The Craic Pack is a fast furious and funny fully improvised comedy show based entirely on the suggestion of the audience.
---
THEATRE
4-9 Feb 2013
Mercury Fur
Silken Thomas Players
In a London ravaged by riots and hallucinogenic butterflies, brothers Elliot and Darren survive by organising parties where their clients' wildest fantasies come true.
---
THEATRE
1st-2nd Feb 2013
A Clamour of Rooks
GSA in assoc w/ Carthage
'A Clamour of Rooks' is the story of a prodigal daughter, Sophia, who returns home to care for her dying mother. Her efforts to save her mother and find reconciliation lead her on a nightmarish fairy-tale journey deep into the unspeakable memories of their troubled past.
---
THEATRE
14-26 Jan 2013
The Life and Sort of Death of Eric Argyle
15th Oak Productions
Eric Argyle is having a bad Sunday. It's late. He's still in his pyjamas. A room full of people are staring at him. And he died at 11.42am, two days ago. An issue that people don't seem all that receptive to.
---
THEATRE
10-12 Jan 2013
Silent
Pat Kinevane/Fishamble
Homeless Tino McGoldrig once had splendid things. But he has lost it all – including his mind. He now dives into the wonderful wounds of his past through the romantic world of Rudolph Valentino, in this brave, bold, beautiful production.