Current Artists in Residence
SONYA KELLY
We are really delighted to announce that Sonya Kelly has joined Smock Alley as Resident Artist. Throughout the residency, Sonya will be utilising Smock Alley's theatre space and technical facilities to develop two new pieces of work, one for an adult audience and another for a young audience. Sonya will be working on a monthly basis with a group of emerging playwrights, sharing what she has learned about writing for theatre.
Sonya Kelly's Smock Alley Theatre Artist in Residence is supported by Dublin City Council and The Arts Council.
Sonya is an Irish writer for theatre and TV. Her debut play The Wheelchair on My Face produced by Fishamble won a Fringe First Award Edinburgh Fringe 2012 and received a Critics Pick New York Times. Sonya's second play How To Keep An Alien produced by Rough Magic won Best Production at Dublin Fringe 2014 before touring both nationally and internationally to Brisbane Festival, Traverse Edinburgh, Soho Theatre London, The Irish Arts Center New York and New Zealand. Sonya's third play Furniture was developed and produced by Druid at Galway International Arts Festival 2018, toured Ireland in 2019 and received the Stewart Parker Award and an Irish Writers Guild Award for Best New Theatre Script. She is currently working on a new play with Druid and a number of TV projects with BBC Scotland, Wildfire Films, Green Pavilion and Treasure Entertainment.
Smock Alley Round-Tables
Smock Alley Round-Tables is a paid writer development series programmed as part of Sonya Kelly's Artist Residency with Smock Alley, Dublin City Council and the Arts Council. The series is being led and facilitated by established writer Sonya Kelly, and is supported by Lucy Ryan, Director of Programming & Finance at Smock Alley and Kate Ferris, Independent Theatre Producer.
In essence, the series is made up of informal peer to peer conversations that focuses on the craft of writing, engagement with the industry, development of new ideas, honing long term skills, engaging with producers/creative teams and sharing experiences with hard lessons. These sessions are broken down into both individual one on one discussions, and group meetings with all participants.
The central ambition of the Smock Alley Round-Tables is to break down the dependence on outcome focused creativity. They are about the How as opposed to the When; how to build self-belief into writing practice in a way that will help writers stay in the industry, and how, with ambition for skill over all else, we can raise the tide and lift all boats. The five participants are…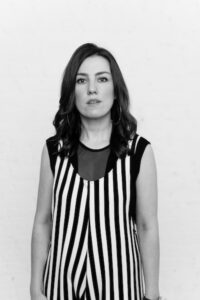 Clare Monnelly
Clare Monnelly is a writer and actor. Her first play Charlie's a Clepto was nominated for two Irish Times Theatre Awards (Best New Play, Best Actress) and the Stewart Parker New Playwright Bursary. Her second play minefield premiered at the Dublin Fringe Festival 2019 and was nominated for three Fringe Awards (Best Design, Fishamble New Writing Award, First Fortnight Award). As an actor she has worked with Druid, the Gate, the Abbey and Livin Dred among others and on screen for RTÉ, Sky One and TG4. She is an alumnus of Irish Theatre Institute's Six in the Attic programme and the Lyric Theatre Belfast's New Playwright Programme.

Erica Murray
Erica is a playwright currently based in County Limerick. In 2019 she was the writer in residence at The Lyric Theatre where her play All Mod Cons premiered and was awarded the Channel 4 Playwright Bursary. Other recent work includes The Cat's Mother which toured to London, Edinburgh and the Dublin Fringe in 2018 where it won the Fishamble Award for Best New Writing and was nominated for the Stewart Parker Award.

Aisling O'Mara
Aisling graduated from the LIR Academy with First Class Honours in 2015. Theatre Credits include: SHIT (THISISPOPBABY , Were We Will Festival, Projects Arts Centre) The First Pegeen (Bewley's Cafe Theatre)In Our Veins (The Abbey Theatre)We Can't Have Monkeys In The House (The Peacock Theatre), The Grimm Tale Of Cinderella (Smock Alley), Nothing But A Toerag By Aisling O'Mara (Smock Alley, Bewley's Cafe Theatre ), Fierce Notions (Dublin Fringe Festival Judges Choice Award Winner), Monster? (Theatre Upstairs), Wall (Abbey Theatre), Murder of Crows
(Theatre Upstairs, National Tour), Hostel 16 (DFF 2016), Beyond Barricades (ANU),
Hornet's Nest (ANU), Into The Sun (ANU), Rebel Rebel (ANU: Ireland/UK/New York), Jack Duggan's War (Collins Barracks), Contractions (Bewley's Cafe Theatre). Aisling is the winner of the Jim Mc Naughton Tile Style Bursary Award 2018 in association with Business to Arts. Next Generation Arts Council recipient 2020.

Shane O'Reilly
Shane is an actor & writer. Shane recently wrote and directed windowpane, a monologue written for film, as part of The Abbey Theatre's Dear Ireland production. In response to a commission from Culture Night 2020 Shane wrote and directed the short film PAL. He has recently completed his new play for young audiences swansong, a commission from Barnstorm Theatre Company, which will premiere in 2021. Other writing work includes; The Water Boys for Equinox Theatre; Näher…closer, nearer, sooner co-created with The Liz Roche Company; FOLLOW, FARM and CARE co-created with WillFredd Theatre as their associate artist; The Genealogy Project (presented as part of an in-development programme at The Abbey Theatre in 2017). He is currently in development with Invisible Thread Films on a new experimental documentary film. Shane has performed with the Abbey Theatre, the Gate Theatre, Rough Magic, Druid, Landmark, Barnstorm and Prime Cut along with other Irish and international companies.

Keith James Walker
Keith James Walker is a writer from Dromin, County Louth. He has previously written 'How to Build Your First Robot' for the Dublin Fringe Festival, 'Walkinstown' staged in Smock Alley Theatre and 'Flake' for the Abbey Theatre as part of the Dear Ireland project.
FIGHT2FLIGHT THEATRE
Fight2Flight Theatre Company's aims are simple:
To create, develop and present original plays to debut in Smock Alley Theatre.
Fight2Flight are committed to being a company that supports and employs the best of Irish talent across all disciplines in theatre to work on our productions.
We aim to pay the Equity Minimum to all members of the company with a rough parity for all involved involved on an equal or pro-rata basis.
We aim to create a repertoire of new plays that can be toured nationally and internationally, bringing the Smock Alley Theatre and Fight2Flight brand to audiences new and existing in and outside the Dublin area.
We aim to further develop the profile of Smock Alley as the "Go To" venue for exciting new and original plays.
Our productions in Smock Alley in 2020 seeks to develop a style that is unique, exciting accessible and recognisable, whilst keeping the core ambition of bringing new work to a growing Dublin audience. Fight2Flight are a company that committed to growing year on year together in partnership with Smock Alley.
The Fight2Flight team for 2020 are :
Peter Gowen, Actor, Writer, Director.
David Herlihy, Actor.
Eoin Winning, Lighting Designer
Sarah Foley, Set and Costume Designer
Irene Buckley, Composer.
Donal Gallagher, Director.
Medb Lambert, Designer
All of these creative professionals are highly distinguished artists and have agreed to work on our first two productions in Smock Alley Theatre for our 2020 residency.
The first play The Chronicles Of Oggle is a revival with Asylum Productions. The play was originally produced by The Everyman Cork
TONNTA MUSIC
tonnta is a music company and vocal ensemble dedicated to new music.
Led by vocalist and composer Robbie Blake, tonnta champions interdisciplinary creation of music performance
tonnta's sound is vibrant and dynamic and its work brushes against the worlds of contemporary dance, theatre and live art.
tonnta believes in creating experiences for all. We prioritise making performances and events that are fully accessible.
---
Recent Work
In Clouds
Led by director and co-composer Peter Power, In Clouds saw an award-winning group of artists come together to create a unique site-specific piece in Triskel Christchurch in June 2018 as part of the Cork
Midsummer Festival.
This new immersive musical experience invited you, alongside the artists, to examine the human struggle to encompass and understand scientific theory, natural phenomena and human behaviour.
PREVIOUS RESIDENCIES
RISE PRODUCTIONS
Rise Productions are an award-winning Irish theatre company, telling stories across various platforms and media.
Their debut show Fight Night won both the Best Actor and the Bewley's Little Gem award at the Dublin Fringe Festival in 2010, and was nominated for Best New Play at the Irish Times Theatre Awards 2012.
In November 2011, Rise Productions unleashed its groundbreaking Irish Theatre Podcast on an unsuspecting public. For 52 weeks straight, the series sought to "support, promote, and celebrate all that's great about Irish Theatre." These weekly conversations granted unprecedented access to some of the most influential figure in Irish Theatre, creating the most comprehensive archive of Irish Theatrical voices ever compiled.
---
Recent Work
The Good Father
2017 saw a return to touring for Rise Productions, with Christian O'Reilly's The Good Father selling out venues nationwide and receiving rave reviews.
"Breathtakingly Brilliant – Not to be missed" – The Arts Review ★★★★
"Perfectly pitched, sensitive and powerful. Never puts a foot wrong. This is a thoroughly enjoyable evening at the theatre" – Sunday Independent
"Two winning performances – catch it if you can."– Sunday Business Post ★★★★
The Good Father ran in Smock Alley Main Space 10 -16 July 2018.
GLASS MASK THEATRE
Dublin based theatre company directed by Rex Ryan, committed to the work of exceptional Irish and International playwrights.
Glass Mask Theatre commit to presenting plays that thrill our audiences. Electric Theatre. We commit to the playwright and will stage work, new and classic, from Irish and International playwrights who possess a fire and commitment to the stage.
---
Idlewild
Revenge started a gangland tragedy. Now only sacrifice can finish it.
Dublin 2018 – After a bitter gangland feud between two childhood friends has reached a deadly impasse, only a terrifying sacrifice can end the bloodshed.
---
Company Members 
ARTISTIC DIRECTOR: Rex Ryan
PRODUCER: Mags Keohane
ASSOCIATE PLAYWRIGHT: Jimmy Murphy
LITERARY MANAGER: Migle Ryan
ASSOCIATE ACTORS: Ruairi Heading
---
The Seamster's Daughter
We all know what she should do, but what would you do…?
Megan always dreamt of meeting her birth father, but after discovering she was conceived through rape she sets out in search of a monster.
Through Megan's story Glass Mask presents a challenging and conflicting drama that looks at consent, choice and the right to life.
---
WRITTEN AND DIRECTED BY: Jimmy Murphy
CAST: Úna Crawford O'Brien, Michael Ford-FitzGerald, Aoife O'Sullivan, and Rachel Pilkington