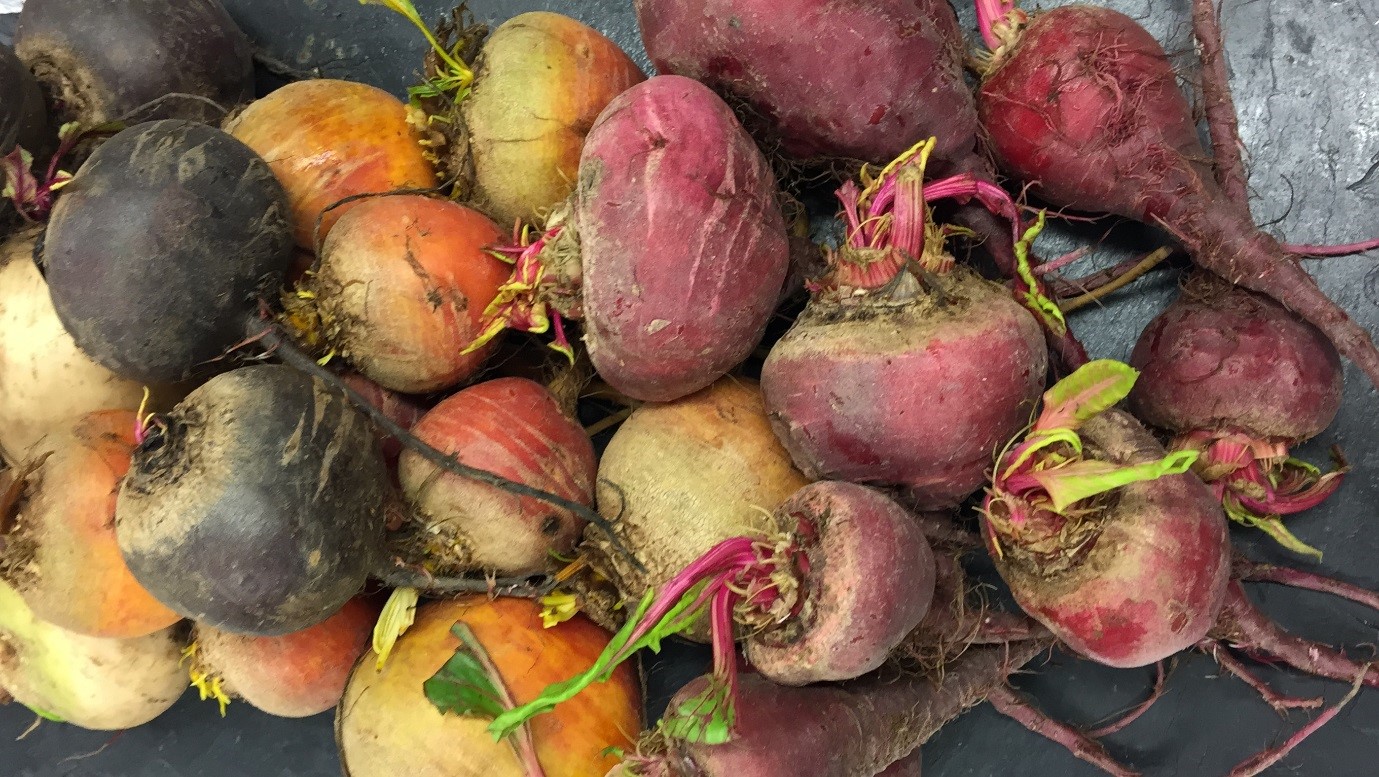 We often have leftovers after a catering event in the theatre, and subsequently with the challenge of using them in up something , as opposed to disposal. Recently after a dinner we had surplus beetroot from North County Dublin, both of the regular red and candied variety. The last place we wanted them to end up was the bin and were inspired to transform the beets into a chutney and a pickle.
Beetroot chutney is a wonderful addition to a cheese board, and its vivid purple really enlivens a selection of any cheese. We've added some Indian spices to further ramp up the intrigue on the palate and the result is indeed downright yummy. The pickle is very straightforward and a million miles away from the overly vinegar soaked specimens in supermarkets.
Both the chutney and pickle are relatively easy and quick to do. Life's complicated enough without adding stress to a hopefully pleasurable couple of hours pottering in the kitchen.
Beetroot Chutney
We used just the regular beetroot for this- the colours of the candied beetroot lend themselves much better to being pickled.
Firstly roast the beetroots, wrapped in tin foil in an oven (180 degrees C) for 45 min to an hour. When a knife pierces them easily they are done. Leave to cool as you prepare the other ingredients. Chop 4 apples and 5 large shallots into chunks- they don't need to be too fine. Grate 2 cloves of garlic and a thumb sized piece of ginger together. In a heavy bottomed pan, heat some sunflower oil with 4 or 5 cardamom pods, 1 teaspoon of cloves, 1 tablespoon of cumin seeds and a cinnamon stick. Add in the shallots and apples, with 500 g caster sugar, juice of 1 lemon and 500ml of white wine vinegar, or cider vinegar. Let the heady mixture come to the boil.
When the beetroot has cooled enough to handle, peel and dice the flesh and add to the boiling mixture. Let it simmer for 30 minutes or so until it has taken on a thick consistency. Spoon it into sterilised jars, let it cool and seal the top. Lovely with a creamy Irish Brie and crackers.
Pickled Beetroots

As before, wrap your beets (this time the candied variety) in tin foil and roast until tender. When cooked, let cool until you can handle them and cut them into chunks, again keeping them quite rough. We're not going for machine perfection but something that looks like it was made by a human. When cut, pop into a large sterilised jar or a few small ones if so inclined.
For your pickling brine you will need, 400ml white wine vinegar, 300g caster sugar, 300ml water, 2 or 3 star anise, 6 cloves, a tablespoon of juniper berries, 3 or 4 bay leaves and 4 tablespoons of balsamic vinegar. Pop all these ingredients into a pan and bring to the boil, then turn the heat until you are simmering and add the balsamic. Pour this still hot aromatic liquid over the beetroots in the jar. Let it cool, cover with some olive oil and pop a lid on. Voila! Pickled beetroots. They go great with an old fashioned ham salad, or grated with some goat's cheese, orange, chillies and mint.
The Finished Articles
The deep ruby hues of this chutney offer a wonderful contrast to bright cheeses, and the delicate Indian spicing creates a sweet and aromatic chutney.
The colours of the candied beetroot change slightly during pickling but still preserve their distinctiveness. Keep the spices whole when preserving for an interesting visual in the jars.
Next Week- our reject Smocktail! Sad face and sigh.