Dublin City Public Libraries Readers' Day
With June Caldwell, Myles Dungan, Alison Jameson, Mary Kenny, Paul Lynch and Nuala O'Connor | In conversation with Dave Kenny
An engaging morning of book chat hosted by author and journalist Dave Kenny, in conversation with a host of authors. The well received Room Little Darker (New Island Books) is June Caldwell's first collection of stories. Following the success of his first book On This Day (New Island Books), Myles Dungan returns with On This Day: Volume 2 – Irish Histories from Drivetime on RTÉ Radio 1 (New Island Books), a collection of fascinating historical tales based on his popular Drivetime slot on RTÉ.
Alison Jameson's latest novel This Family Of Things (Doubleday Ireland) is a poignant study of the emotional lives of three siblings and the one girl who breaks through their solitude, guaranteed to tug on your heartstrings. Mary Kenny ruminates on the once marginal issue of feminism and its shift into the mainstream in her new book Am I a Feminist? (New Island Books).
Paul Lynch's Grace (Oneworld Books) is a sweeping, Dickensian story of a young girl on a life-changing journey across nineteenth-century Ireland on the eve of the Great Famine. Nuala O'Connor's Joyride to Jupiter (New Island Books) is her sixth short story collection, and a skillful demonstration of what this art form can achieve. Refreshments will be served during a 30-minute interval.
Sat 4 Nov | 10am - 1pm | Main Space | €15
Booking now open for library members with a code. Booking will be open to the public from 23rd October
---
Book Art Exhibition By Art, Design and Three-Dimensional students
IN ASSOCIATION WITH BALLYFERMOT COLLEGE OF FURTHER EDUCATION
See your favourite stories come alive with book art sculptures on display throughout Dublin Book Festival. We are delighted to announce our collaboration with the talented Art, Design and Three-Dimensional (ADT) students of Ballyfermot College of Further Education, who will return again this year with a new series of unique book-inspired artworks to adorn Smock Alley Theatre. These magical sculptures will be exhibited throughout the entire festival – can you find them all?
ADT is a long established one-year art portfolio course, preparing students for entry to a Level 8 course in art and design.
Sat 4 Nov | 10am - 5pm | On display in the Banquet Hall
---
Michael Collins Walking Tour With Lorcan Collins
Acclaimed tour guide, author and historian Lorcan Collins invites you to join his fascinating tour tracing the footsteps of Michael Collins, the soldier and politician who was a leading figure in the struggle for, and achievement of Irish independence in the early 20th century.
For the past 21 years, Lorcan has conducted thousands of tours around Dublin and the sites of the revolutionary period.
This will be a gentle walking tour through Dublin City, with visits to the many buildings and landmarks associated with Michael Collins.
Please arrive 10 minutes before the tour starts.
Sat 4 Nov | 11:15am | Tour starts from Smock Alley's front steps
Tickets €7/5
---
Dublin History Walking Tour with John Gibney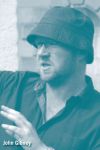 Join John Gibney acclaimed historian, walking-tour guide and author of Dublin – A New Illustrated History (The Collins Press) for a bespoke tour of Dublin city centre. Weaving together a multitude of tales, absorbing episodes and characters to explain the history of the city, this unique historical overview of Dublin promises to be equal parts educational and entertaining!
This dynamic jaunt will depart from Smock Alley, visiting some of the buildings, streets and monuments that shaped and defined Ireland's much-beloved capital city over the centuries. This tour lasts roughly 90 minutes.
Please arrive 10 minutes before the tour starts.
Sat 4 Nov | 1pm | Tour starts from Smock Alley's front steps
Tickets €7/5
---
Rick O'Shea Book Club | In conversation with Lisa Harding, Eoin Macken, Andrew Meehan and Stefanie Preissner
Storytelling transcends many art forms – whether it is through the written word, the visual arts or the physical realm of acting.
RTÉ presenter Rick O'Shea will engage four transmedia storytellers about their experiences working across multiple mediums during the current Golden Age of Television.
Actress and playwright Lisa Harding's debut novel Harvesting (New Island Books) tells the harrowing story of two teenage girls thrown together in a Dublin brothel.
Andrew Meehan is a short-fiction writer, screenwriter and former Head of Development at the Irish Film Board. His first novel One Star Awake (New Island Books) is a fractured fairy tale, by turns heartbreaking and hilarious.
Actor, filmmaker, model and author Eoin Macken will discuss his new novel Hunter and the Grape (Ward River Press), a touching tale tracing a young man's obsessive journey to Los Angeles to track down his lost love.
Stefanie Preissner is the creator of the comedy-drama series Can't Cope, Won't Cope, documentary How to Adult, best-selling one-woman theatre show Solpadeine Is My Boyfriend and author of Why Can't Everything Just Stay the Same? (Hachette Books Ireland).
Sat 4 Nov | 1:45pm | Main Space
Tickets €7/5
---
Michael O'Loughlin with Dermot Bolger
In 1979 two young Finglas writers came together to launch Raven Arts Press, a publishing house that – while publishing a generation of writers who rose to national and international prominence – always remained informed by their shared roots. Although the location of their work has ranged across Europe and European history, their Northside childhoods have remained central to their vision of Irish and European society.
Born in 1959, Dermot Bolger is one of Ireland's best-known writers, whose thirteen novels include The Journey Home (Flamingo) and most recently The Lonely Sea and Sky (New Island Books). His selected poems, That Which is Suddenly Precious (New Island Books), appeared in 2015.
Born in Dublin in 1958, Michael O'Loughlin has been one of the most arresting voices in Irish poetry since his debut, Stalingrad: The Street Dictionary (Raven Press), in 1980. His most recent book, Poems 1980-2015 (New Island Books), reveals the full extent of a unique, provocative and superbly crafted oeuvre.
In this intimate conversation they will read their work, remember the turbulent Dublin that shaped the emergence of Raven Arts Press and discuss their experiences as writers in careers that have spanned more than three decades.
Sat 4 Nov | 2pm | Boys' School
Tickets €7/5
---
Francis Brennan in conversation with Rick O'Shea
Managing a household is no easy feat, and no one understands this better than Francis Brennan. The hotelier and beloved personality behind the television show At Your Service is known across the country for his impeccable taste and high standards in homemaking.
In his latest book Francis Brennan's Book of Household Management (Gill Books), Francis takes us through the house room by room, offering words of wisdom on how to run your household, while relating hilarious anecdotes from his experiences in the hotel trade.
During this lively chat with RTÉ presenter Rick O'Shea, Francis will share sage advice on the practical measures needed to ensure domestic bliss.
Sat 4 Nov | 3:30pm | Main Space
Tickets €7/5
---
Your Guide to Healthy Eating | With Adrian Martin, Jane McClenaghan and Paula Mee
Running out of ideas for family dinners? Finding it difficult to eat healthy and wholesome meals on a budget? Or are you interested in taking control of your personal health and wellbeing?
If the answer is yes to any of these questions, please join us for an engaging and motivational segment.
Journalist Rosemary Mac Cabe will be in conversation with a line-up of impressive authors: Adrian Martin, contributor to RTÉ Guide and TV3's 'The Seven O'Clock Show' and author of Fakeaway: Fast Food Made Healthy (Mercier Press); Jane McClenaghan, who seasons the panel with her philosophy of a simple, balanced and effective lifestyle drawing on practical nutritional advice from her book The Vital Nutrition Handbook (Blackstaff Press); and Paula Mee, The Irish Times and RTÉ Consultant Dietician and co-author of Gut Feeling (Gill Books), will bring along her expertise on creating meals for those with a sensitive gut.
Sat 4 Nov | 3:30pm | Boys' School
Free Admission. Booking Required.
---
Book Launch : Rehabilitating the Serpent by Jack Harte (Scotus Press)
Scotus Press would like to invite you along to celebrate the launch of Rehabilitating the Serpent, the latest book from world-renowned Irish short story writer and novelist, and founder of the Irish Writers Centre, Jack Harte.
This poignant narrative delves into the dichotomy of religion and dares to question, analyse and confront the notions of good and evil and the parallels between love and hate.
Jack Harte, a teacher, activist and author of over a dozen books and 24 English textbooks will lead a stimulating reading and discussion of Rehabilitating the Serpent. Refreshments will be served.
Sat 4 Nov | 5pm | Winter Garden (Smock Alley Banquet Hall) Free Admission. No Booking Required
---
Cracking Crime | With Sam Blake, Helen Moorhouse and Julie Parsons
If you are a crime writer interested in developing a gripping crime novel that compels readers and incites curiosity, you cannot miss this seminar with Julie Parsons, Helen Moorhouse and Sam Blake.
Blake, bestselling author of Little Bones (Bonnier Zaffre) shortlisted for the 2016 Irish Crime Novel of the Year Award at the Bord Gáis Energy Irish Book Awards, will explore the crime writing process.
Helen Moorhouse, author of 4 books, Advertising Copywriter and regular contributor to the Irish Independent will share her secrets to writing an enticing and polished novel and Julie Parsons, one of Ireland's most accomplished crime writers will join this panel of experts to further explore the technical aspects of the craft of crime writing.
Sat 4 Nov | 5pm | Boys' School
Tickets €10/8
---
Roddy Doyle in conversation with Catherine Dunne
Join us for a lively discussion between two of Ireland's most creative and celebrated writers.
Join Catherine Dunne, author of ten novels and recipient of the 700th anniversary Giovanni Boccaccio International Prize for Fiction, in conversation with Roddy Doyle, author of eleven acclaimed novels including his new book, Smile (Penguin Random House).
Doyle's latest book has been praised for being fresh, thrilling, dark, humorous and fearless. When you finish turning the last page you will have been challenged to re-evaluate everything you think you remember so clearly. You will not want to miss this stimulating conversation, which will also delve into Doyle's extensive writing history.
Sat 4 Nov | 6pm | Main Space
Tickets €10/8
---
Day of the Imprisoned Writer Frontline Defenders with David Ravelo Crespo
IN ASSOCIATION WITH FRONT LINE DEFENDERS AND IRISH PEN
"Accuse me of not being quiet because my voice will always ring out. […] Accuse me of being a communist because of defending an ideal. Accuse me of being naïve because I believe in peace. Accuse me of being alive because I refused to be killed."
These are the words of Colombian human rights defender, economist and poet, David Ravelo Crespo, who spent almost seven years behind bars in on trumped up charges. David was released earlier this year but continues to be threatened because of his human rights work.
Front Line Defenders and Irish PEN are delighted to host David in Ireland to celebrate the Day of the Imprisoned Writer. David will read from a collection of poems and short stories he composed while in prison, and he will be joined by other voices reading the words of international human rights defenders who are targeted because of their writing, but refuse to remain silent.
Unfortunately this event has been cancelled.
---
New Island Books 25 Years Celebration With Dermot Bolger, June Caldwell, Anthony Glavin, Sinéad Gleeson, Edwin Higel and family of Nuala O'Faolain
Join New Island Books as it celebrates 25 years since its foundation, with chat and readings from some of the authors and books that have defined its history.
New Island publisher Edwin Higel will talk to Dermot Bolger about the origins of New Island and some of the press's highlights. Former New Island literary editor Anthony Glavin will chat with the family of Nuala O'Faolain about her life and the unprecedented success of her memoir Are You Somebody?.
Finally, Sinéad Gleeson will talk to June Caldwell about the Irish Book Award-winning The Long Gaze Back, which Sinéad edited, and June's subsequent publishing success.
Sat 4 Nov | 7:30pm | Main Space
Free Admission. Booking Required
---
---
Smock Alley Theatre is delighted to host these events as part of the Dublin Book Festival 2017. To view the full festival programme visit www.dublinbookfestival.com